In the dynamic landscape of process industries, staying ahead of the competition requires robust data visualization tools that empower organizations to make informed decisions and optimize operations. While aspenONE Process Explorer has been a trusted solution, industry demands for more advanced features and capabilities have paved the way for alternatives. In this blog post, we will explore the exciting realm of aspenONE replacements, unveiling cutting-edge solutions such as PARCview that revolutionize data visualization and unlock new possibilities for process industries. Join us as we embark on this transformative journey towards enhanced data visualization and operational excellence.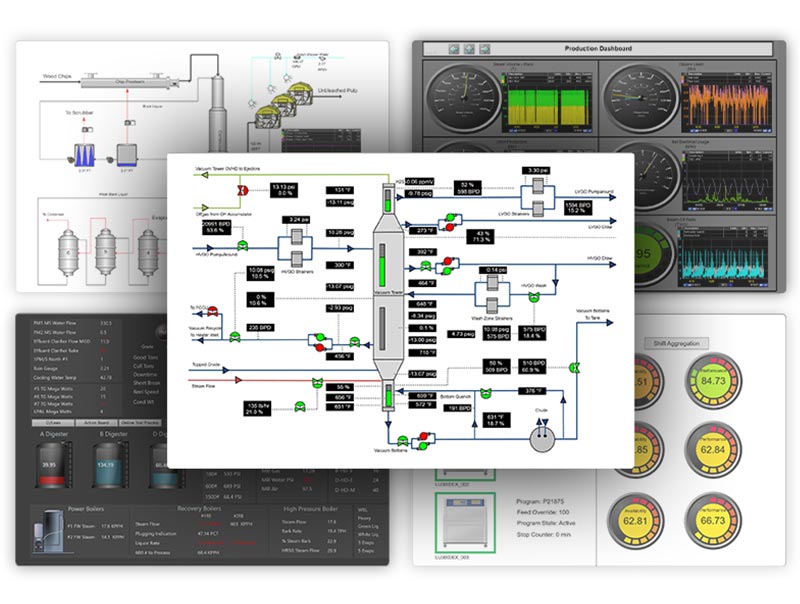 Build Real-Time Dashboards & Displays for Effective Process Monitoring with dataPARC
Data visualization plays a pivotal role in driving informed decision-making and optimizing operations in manufacturing.
As organizations seek advanced solutions to extract valuable insights from their data, it becomes crucial to explore alternatives that go beyond the capabilities of existing tools when possible.
aspenONE Process Explorer has provided valuable insights to industry professionals, shedding light on the data-driven landscape. However, limitations in visualization options, data analysis flexibility, and scalability have been observed.
Companies will have their own specific reasons for searching for an aspenONE replacement visualization tool.
PARCview as an aspenONE Replacement
PARCview is a cutting-edge data visualization solution that is transforming the way process industries analyze and interpret their data.
It is intuitive and has a comprehensive set of features and advanced capabilities. PARCview offers a powerful alternative as an aspenONE replacement.
PARCview provides users with a range of tools and techniques to create visually compelling representations of their process data. From interactive multi-trends to sophisticated dashboards, PARCview empowers users to gain deeper insights and make informed decisions.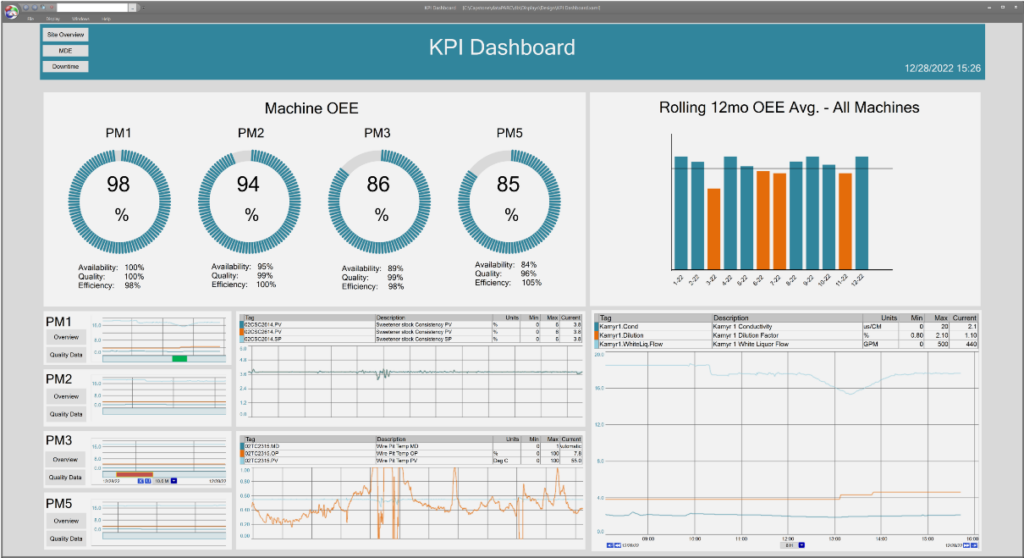 A sample of an interactive PARCview Graphic with a variety of trends, buttons and controls.
Here are a few reasons one might choose to shift to PARCview for their data visualization:
Intuitive, User-friendly interface
PARCview prides itself on its intuitive and user-friendly interface. It is accessible to users of all experiences and technical backgrounds.
Anecdotally, when users are introduced to PARCview and another visualization software, they can view current dashboards, create new trends and navigate trends more quickly with PARCview.
Trends are easy to create independently, allowing for fast data exploration and the ability to find the root cause. Drag-and-drop allows for tags to easily be added from one trend or displays to another trend.
PARCview Graphics (dashboards) can be created as standard information dashboards, process overviews or even their own interactive applications by using VB.NET. This eliminates the limitations and enables effortless exploration and interpretation of data, empowering end-users to derive actionable insights.
Visualization Options
PARCview goes beyond basic visualizations and offers advanced techniques to analyze and present process data. A standard across visualization software is a trend, but PARCview is the #1 Trending Display on the market.
There are a few reasons for this. First PARCview trends are independent displays, a new graphic/dashboard does not have to be created to save a trend. Additionally, a multi-trend can be created within a trend display.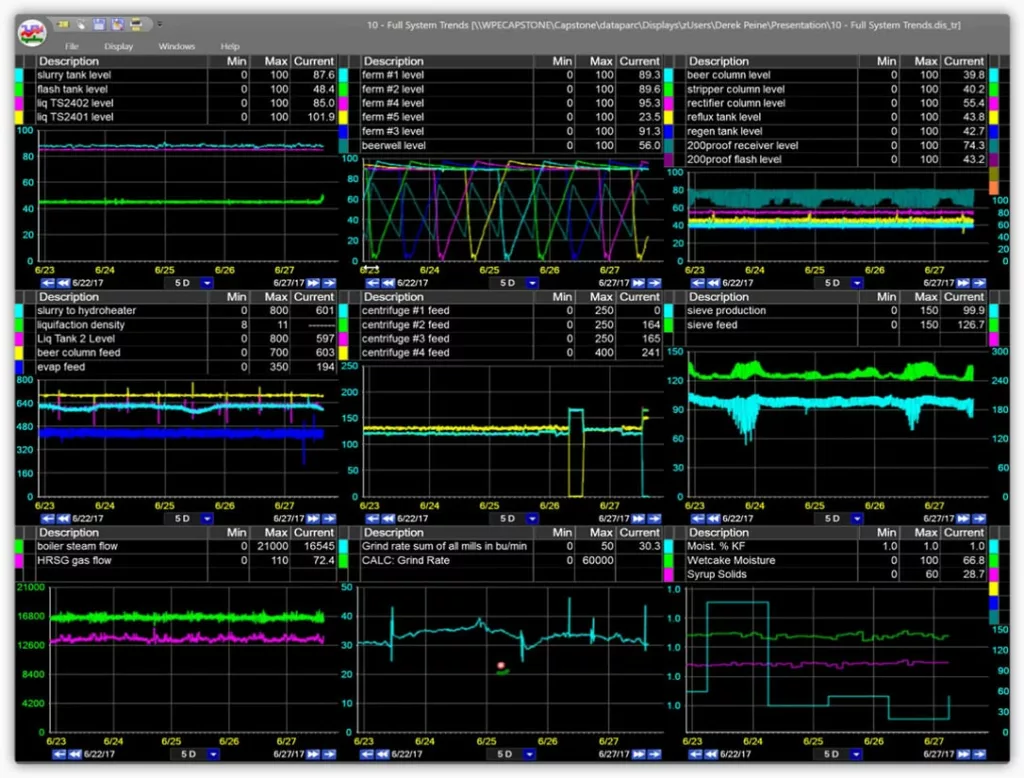 This image is of a PARCview multi-trend display with 9 trends in one. They can navigate independently or together.
This allows users to see 5, 10, 20 or more separate trends on a single display. Users can sync the time together and view data side by side without having to deal with multiple windows or creating customized dashboards specifically for trending.
Centerline utilizes Run Browser, which allows users to view data in groups of runs. These runs can be time-period, grade, product or tag value based such as vendor.
Centerlining ensures that the best settings and procedures are in place during production to show that the process is running consistently, producing a consistent, high-quality product. If multiple grades or products are being produced, easy access to grade-specific or product-specific centerline settings and ranges is critical.
Users can also leverage XY plots, histograms, Pareto charts, and more to uncover patterns, anomalies, and correlations in their data. Such tools assist in providing a comprehensive understanding of process performance and identifying root causes.
Advanced Analytics
PARCview incorporates advanced analytics and diagnostic tools that enable users to perform in-depth analysis on their process data. From statistical process control (SPC) to predictive analytics and anomaly detection, PARCview equips organizations with the tools to optimize their processes and identify areas for improvement.
Rather than having a separate Lab Management System where specifications are kept, with PARCview users can maintain specifications in the same places as visualizing the data. Lab data can also be entered into PARCview.
PARCview's PLS package has been descripted as unparalleled, surpassing any other solution available. PLS modeling plays a crucial role in building predictors, but the conventional approach involves time-consuming processes using multiple tools.
With dataPARC, everything is integrated into a single tool, reducing the re-modeling effort from over 8 hours to as little as 5 minutes.
Additionally, dataPARC's PLS and PCA offer similar modeling advantages, with PLS focusing on mimicking a single variable using adjacent variables, while PCA facilitates easy model generation.
Data Performance
dataPARC prioritizes data performance with a strategic approach, leveraging multiple components including the embedded Performance Data Engine (PARCpde) to accelerate data delivery to users.
The ultimate objective is to provide users with data at the "speed of thought" by providing instantaneous access to critical information. The PARCpde serves as a foundational element within the dataPARC system, contributing to its overall efficiency.
Speed tests comparing dataPARC to other tools have consistently demonstrated dataPARC's superiority, delivering data to users anywhere from 10X to 50X faster.
Numerous companies have made the switch to PARCview, partly due to its exceptional data speed capabilities. Additionally, dataPARC incorporates an aggregate archive and rollup archive in its architecture, effectively minimizing the time wasted during problem-solving or opportunity investigation.
Seamless integration with current data sources
PARCview seamlessly integrates with users current historians and data sources. Data can be consolidated from various systems into a single, unified platform.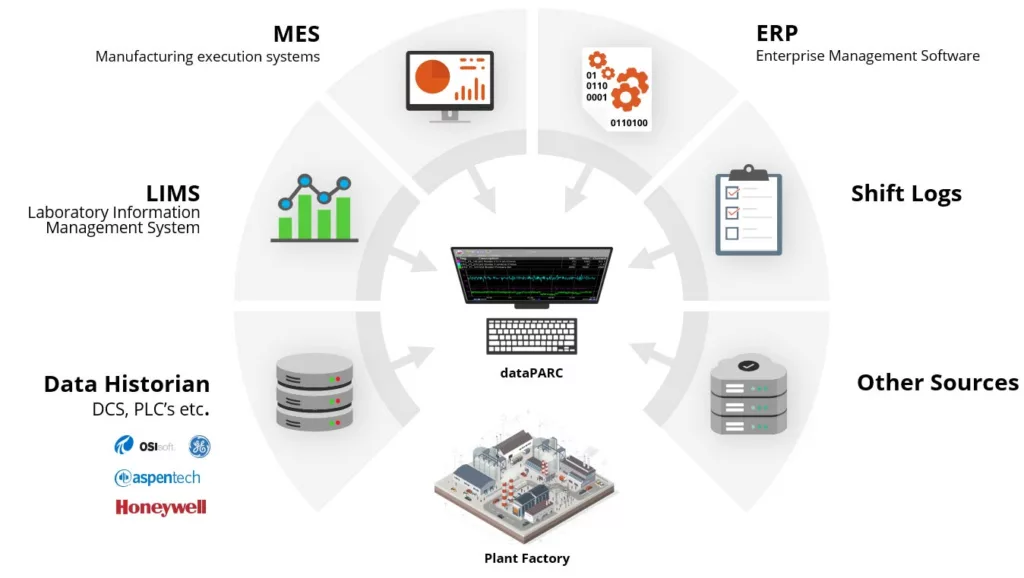 Connect, aggregate and integrate your data for a single source of truth.
This integration ensures data consistency and a single source of truth. When the entire process can be seen on one system, end-users are more informed and can make data-driven decisions.
Other aspenONE Replacements
While of course we think PARCview is the right option as an aspenONE replacement, here are a few more to take a look at:
Seeq:
Seeq specializes in advanced analytics for process manufacturing data. Their products prioritize analysis, offering robust diagnostic and predictive analytics capabilities.
With browser-based Workbench application, Seeq empowers users with powerful trending and visualization tools for efficient root-cause analysis. While Seeq offers process monitoring and KPI monitoring through alarms and scorecards, it lacks some display-building capabilities.
However, Seeq excels in advanced analytics, boasting predictive analytics, machine learning, pattern recognition, and scalable calculation capabilities.
Canary:
Canary is a data visualization and analytics software specifically designed for the process industries. It offers real-time monitoring, advanced analytics, and reporting features.
While Canary doesn't have a dedicated module to connect to other Historians, it offers ease of integration with process data sources through OPC DA and OPC UA. It is a browser-based trending and basic diagnostic analysis capabilities, along with an Excel Add-in for more advanced analysis.
However, users seeking dynamic and interactive display building may need to explore other options. Canary's pricing structure is transparent and includes both one-time and monthly fees.
TrendMiner:
TrendMiner offers easy integration with other historians. While it excels in trending and diagnostic analysis, including features like tag browsing, trend overlays, and data filtering, users have reported challenges in utilizing the system for root cause analysis and slow performance.
TrendMiner provides monitoring capabilities and smart alarming. The platform also offers advanced analytics capabilities through predictive models based on historical data. Pricing for TrendMiner is customized based on specific use cases and tends to be higher compared to other alternatives.
PI Vision:
PI Vision, another alternative to aspenONE Process Explorer, seamlessly integrates with the OSIsoft PI System, offering organizations a unified platform to connect and access their data.
It provides a range of visualization tools that enable users to create interactive displays and graphical representations of data. While PI Vision's advanced analytics capabilities have evolved, it doesn't offer an Excel Add-in for data extraction.
It is also a fully web-based interface now that ProcessBook is no longer being supported.
Conclusion on aspenONE Replacements
aspenONE Process Explorer has been a valuable tool in the process industries, providing insights into the data-driven landscape. Some may seek an aspenONE replacement, looking for something with fewer limitations.
PARCview emerges as a cutting-edge data visualization solution, offering a comprehensive set of features and advanced capabilities.
PARCview's intuitive and user-friendly interface empowers users of all technical backgrounds to explore and interpret their data effortlessly. With advanced visualization options, including multi-trends and centerlining, users can gain deeper insights and identify root causes more effectively.
While there are other options for an aspenONE replacement such as Seeq, Canary, TrendMiner, and PI Vision, PARCview stands out as the preferred choice for organizations seeking an advanced data visualization solution. Its unique features, exceptional performance, and ease of use have led numerous companies to make the switch to PARCview.
In the ever-evolving landscape of process industries, unlocking the full potential of data visualization is essential for driving informed decision-making and optimizing operations.
With PARCview, organizations can elevate their data visualization experience, derive valuable insights, and take their processes to new heights of efficiency and productivity. Embrace the power of PARCview and revolutionize your data visualization journey today.