When it comes to process data visualization and analysis, PI Vision is a top choice among process manufacturers, largely due to the dominance of OSIsoft's/Aveva's PI Server time-series data historian. However, as with any software, it has its limitations and shortcomings.
OSISoft's PI Vision is a web-based visualization tool that allows users to easily access and interact with real-time and historical process data via graphics, dashboards, reports, and other visualizations.
As a vendor in the same time-series data industry as OSISoft (with a focus on delivering real-time data insights for more than 25 years) we've been in the same process manufacturing facilities and shared the same customers. We've connected dataPARC's process data visualization tools to PI Server hundreds of times. We know the industry, we know the end users, and we talk to them often.
As OSIsoft closes the door on ProcessBook in favor of the PI Vision platform, many of these end users are happy with the alternative presented to them. Others have communicated disappointment.
In this post, we will take a closer look at PI Vision, share some insights provided by current PI Vision users, and highlight PI Vision alternatives that may offer better functionality and ease of use.
What Makes PI Vision better than ProcessBook?
PI Vision is meant to be an upgrade over ProcessBook and offers a number of new features and improvements over its predecessor. Some of these include:
Improved scalability
PI Vision can handle larger amounts of data and more users than ProcessBook.
Enhanced visualization capabilities
PI Vision offers more flexible and powerful visualization options, such as the ability to create custom visualizations using web technologies like HTML and JavaScript.
Improved collaboration and sharing
PI Vision allows users to easily share and collaborate on visualizations with others, both within and outside of their organization.
Mobile access
PI Vision is optimized for mobile devices, which allows users to access and interact with their data on the go.
Improved security and compliance
PI Vision includes enhanced security features and supports compliance with industry standards such as NIST.
Overall, PI Vision is a more modern, flexible, and powerful tool than ProcessBook, and is better suited to meet the needs of today's data-driven organizations.
Why You May Be Looking for A PI Vision Alternative
With PI dropping support for ProcessBook in 2024 many process manufacturers have been forced to search for replacement process data visualization tools.
PI Vision, OSIsoft's successor to ProcessBook, is the logical choice for pretty much anybody using PI Server for time series data storage. And, as we mentioned above, there are many reasons why PI Vision is a strong platform.
However, there's no getting around the fact that PI Vision is an entirely different application, and many long-time ProcessBook users have struggled to embrace OSIsoft/Aveva's new web-based platform. Indeed, some of PI Vision's purported advantages have been viewed as quite the opposite by many users.
Below are some common frustrations we've encountered when talking to customers and other PI Vision users. It is important to note that individual experiences may vary and some of these issues may be addressed by updates or workarounds.
Difficult To Use
One of the biggest criticisms we've heard of PI Vision is its ease of use. Much of the key interaction with PI Vision is reported to be slow and/or cumbersome and several manipulations require added step and interaction with people who have designer permission.
According to our customers, dataPARC's (and even ProcessBook's) trends and displays are much simpler and faster to build and use. are many functions available in the real-time realm – with no need to do an offline build or rebuild.
Lack of Scripting
PI Vision doesn't support scripting (ProcessBook and dataPARC both do), which means that information in other systems cannot be accessed and custom actions/animations cannot be built in PI Vision.
Difficulty Migrating ProcessBook Displays
While it is possible to convert Process Book displays to Vision, there are limitations for users who rely on the intricate displays provided by ProcessBook. In fact, the HTML-based PI Vision displays are generally unable to replicate the complex graphics & displays of "thick client" applications.
See how you can migrate your ProcessBook displays without losing functionality
Performance Issues
Some users may experience performance issues, such as slow load times or poor rendering quality, when working with large or complex data sets. In part, this is because PI Vision is HTML-based & most processes run server-side. This limits the number of tags, data frequency, and time window a user can pull up in a reasonable amount of load time.
Customizability
When it comes to customizability, PI Vision also falls short for some customers. With Processbook, users often made personalizations to better fit their company brand or for easier viewing.  After migrating to PI Vision, many of the features were missed, making the displays difficult to see and harder for operators to interpret the data.  
Cost
PI Vision licensing has changed to a per-user model, which means it can be more expensive than site-based licenses offered by other platforms like dataPARC.
Top PI Vision Alternatives

dataPARC's PARCview has key capabilities that PI Vision lacks, such as built-in SPC functions, multi-trend function, and scripting capabilities. If you are looking for an alternative to PI Vision, dataPARC is definitely worth considering.
PI Connectivity
dataPARC's native integration with PI Data Archive and PI Asset Frameworks allows users to connect and begin visualizing existing time series data in a minutes.
dataPARC also offers a very simple transition path for ProcessBook users who haven't been convinced to make the leap to PI Vision. dataPARC's migration utility quickly converts:
ProcessBook displays (PDI, PIW)
DataLink displays
Calculations & datasets
Animations
Buttons
Ease of Use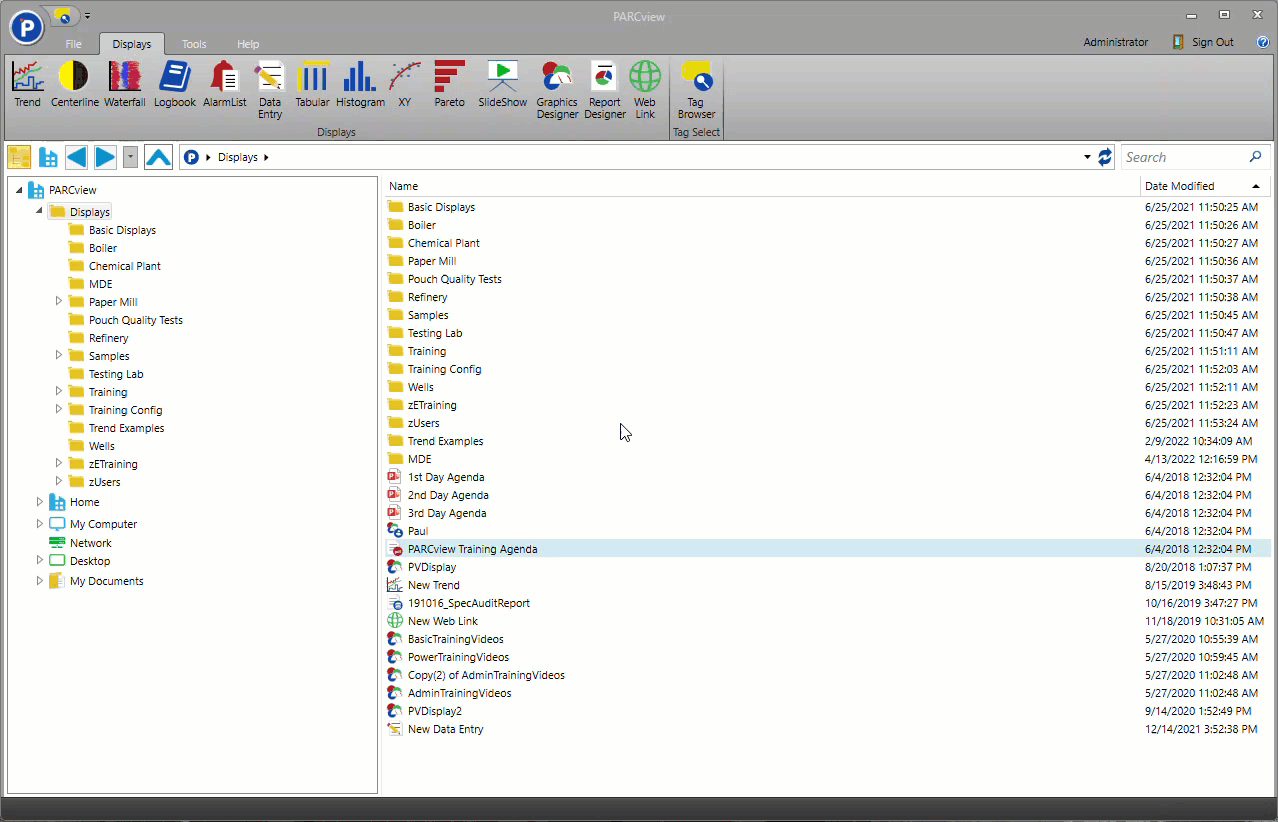 Customers consistently rank dataPARC's ease-of-use as one of its top benefits. With its user-friendly interface, dataPARC simplifies the process of information management, making it accessible to individuals who may not have extensive experience with industrial analytics tools. This ease-of-use has led to high adoption rates of the software within organizations, allowing more people to build content and reap the benefits of its powerful tools
No other package allows for a quicker build of a trend matrix, with quick drag & drop from both the tag browser and displays.
Trending & Displays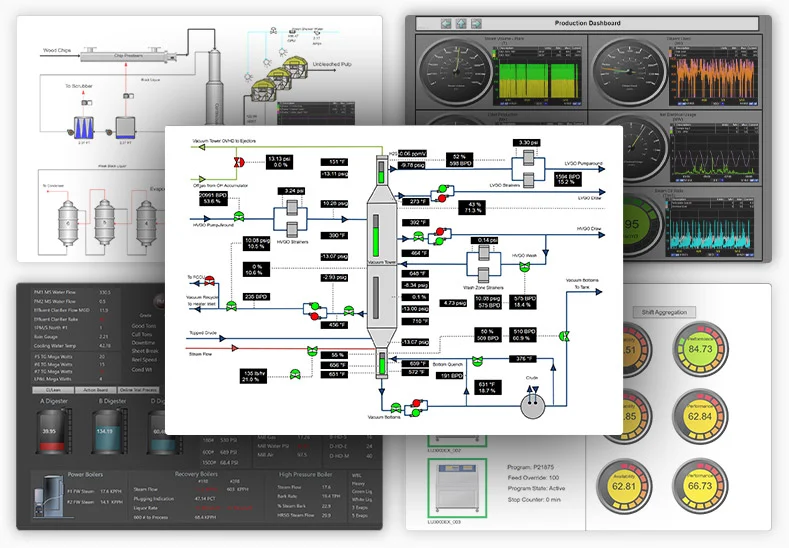 dataPARC is widely considered the best time-series trending application available for analyzing process data. And, if you favor ProcessBook's flexible display building tools over PI Vision, you'll appreciate having all the standard features and functionality you're used to available in dataPARC, including:
Customizable process displays
Real-time dashboards
Control charts w/limits
Manual data entry tools
Excel plugin
And more.
Advanced Analytics Features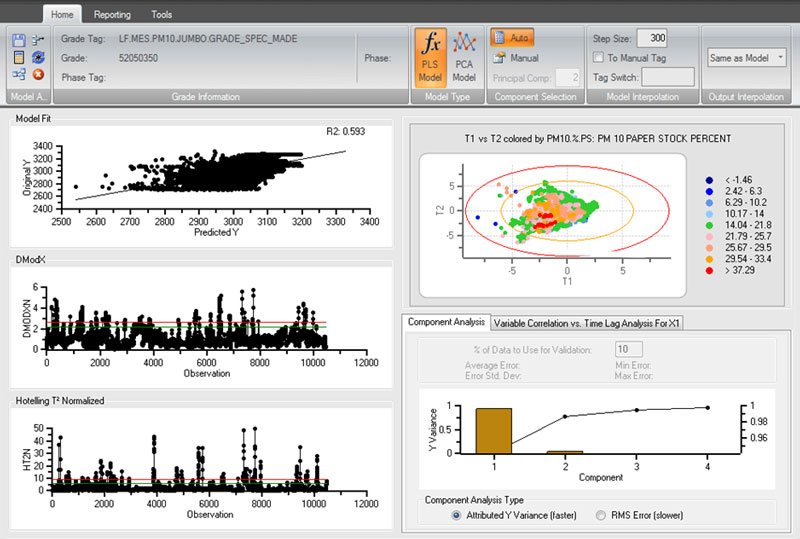 dataPARC's advanced analytics capabilities are a step up from PI Vision's, offering stronger data modeling functionality for predictive analytics projects.
Performance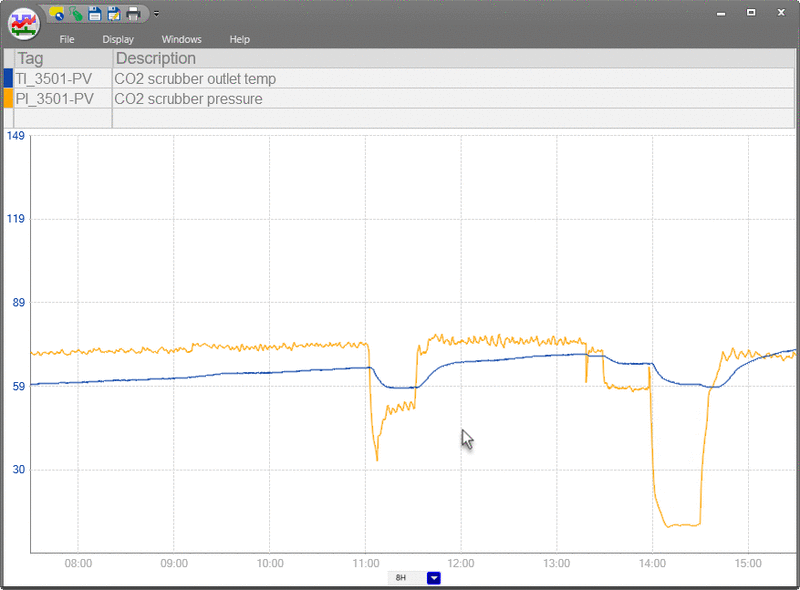 dataPARC's proprietary high-performance archive engine connects to PI Server and returns hours, days or months of high-resolution data within seconds, so you can get all your same data, just much faster.
3rd Party Integrations
dataPARC's API supports an open ecosystem, allowing users to connect it to virtually any data source, including:
Databases
In-house applications
3rd party applications
It's essentially future-proof, with no charge to connect to additional data sources.
Mobile and Desktop Support
dataPARC offers both browser-based and desktop versions of their data analytics & visualization tools, allowing for faster, on-the-go access on mobile devices and more robust analysis and modeling for power users on desktop.
dataPARC remains committed to developing and supporting both their web and desktop applications.
Cost
dataPARC is licensed "by the tag", not by the user or connection. Hence, anyone, anywhere can access the information without added licenses. dataPARC also doesn't charge per client installation, so you can install dataPARC on as many user computers as you would like.
2. Manufacturing Intelligence Applications
Manufacturing intelligence applications are mainly focused on tools that are specifically designed for the shop floor. These applications provide a variety of tools and modules that enable the continuous monitoring and management of production processes around the clock. Some of the features available in these applications include dashboards, reports, SPC/SQC tools, downtime tracking, and others that are deemed necessary for efficient production management.
Although PI Vision stands out in this category with its exceptional dashboarding capabilities, there are a number of alternatives in the market that can provide equally impressive results. Specifically, when advanced functionality such as SPC is taken into account, there are several viable options available. Therefore, anyone searching for a PI Vision alternative should consider broadening their requirements to include these advanced features to find the best match for their specific needs.
3. Enterprise Visualization Systems
Enterprise visualization systems are specialized software applications designed to collect data from multiple plants and various sources and aggregate them for analysis at the enterprise level. These systems are often used for remote monitoring and diagnostic purposes, and they can be highly effective in managing assets across the globe, even for small and medium-sized enterprises (SMEs).
Although these systems are not particularly useful for day-to-day operations management on the plant floor, they offer a broad, enterprise-level view of plant operations. As such, they can be an excellent option for companies seeking a high-level dashboarding tool to gain insights into plant operations across their entire enterprise.
If you are currently using ProcessBook and primarily focused on day-to-day operations management, enterprise visualization systems may not be the most suitable option for your needs. However, if you are looking for a comprehensive, enterprise-level view of plant operations, it is worth exploring these higher-level dashboarding tools. They offer a range of features and capabilities that can help you identify trends, make informed decisions, and optimize your operations on a global scale.
4. Advanced Analytics/Statistics Applications
These applications comprise a new generation of industrial analytics tools that utilize machine learning and artificial intelligence algorithms to analyze vast amounts of data, detect patterns, and make predictions about future events. These applications are highly sophisticated and capable of providing in-depth insights into various aspects of production processes, making them particularly useful for predicting equipment failure and anticipating maintenance requirements. By using predictive analytics, organizations can also identify opportunities to enhance efficiency and reduce waste.
While these applications may not be suitable for day-to-day operations and engineering personnel, organizations seeking a more advanced approach can benefit from the tools provided by these applications. Specifically, they offer capabilities for identifying complex relationships and patterns in data that would be difficult to detect using traditional analytics tools. This enables organizations to make data-driven decisions that can have a significant impact on their bottom line.
Therefore, for organizations seeking alternatives to PI Vision that offer more advanced capabilities, these applications can be an excellent option. By utilizing these tools, they can gain valuable insights into their production processes and make informed decisions that help optimize their operations and improve their overall business performance.
5. Data Visualization/Historian Products
This category includes applications such as ProcessBook, PI Vision, and dataPARC. Although they may offer some features found in other categories mentioned earlier, these applications are primarily data visualization toolkits designed to be used with process data historians. In most cases, they are specifically linked to OSIsoft/Aveva's PI Server historian.
As we previously mentioned, dataPARC's PARCview is an excellent alternative to PI Vision. However, there are several other time series data visualization applications available that provide similar tools for exploratory, ad-hoc analysis of historian data. These applications allow users to visualize and analyze large amounts of process data quickly and easily, facilitating the identification of patterns and trends that can help optimize operations.
Overall, historian data visualization products provide an excellent alternative to PI Vision for organizations seeking powerful data visualization tools that can help them make informed decisions about their operations. Whether you are interested in ad-hoc analysis or more structured reporting, these applications offer a range of features and capabilities to help you gain valuable insights into your production processes.
PI Vision Alternatives: Conclusion
While PI Vision may be a popular choice for process data visualization and analysis, it has its fair share of limitations and shortcomings. Alternative options such as dataPARC's PARCview offer better functionality, ease of use, and customizability.
It's important to note that the selection of the right tool depends on the specific use case, budget and the organization's technical capabilities and infrastructure. It's also recommended to try out the tools, and evaluate their features, capabilities, and scalability before making a final decision.