Now that PI ProcessBook is headed toward extinction, many engineers & operators in the process industries are faced with the challenge of replacing the tools they've depended on for years. But how to go about replacing critical trends and displays? In this article we'll give you some tips for evaluating ProcessBook alternatives, and present some of the best ProcessBook alternatives available today.
Why you Need to Replace ProcessBook
ProcessBook End of Life
In late 2020, OSIsoft announced the retirement of ProcessBook, PI's venerable data visualization toolkit that debuted all the way back in 1994.
Because of its tight integration with PI's industry-leading historian, ProcessBook was widely adopted by process engineers to build trends, dashboards, and process graphics from their PI Server time-series data.
Over the years, as competitors have popped up with newer, more powerful analytics tools, many engineers have stuck with ProcessBook, often simply because of their familiarity with the toolkit, or because of the difficulty of migrating critical graphics and displays to a new platform.
OSIsoft's announcement will likely force their hands.
While current users will continue to be able to use ProcessBook indefinitely, by discontinuing support, OSIsoft is clearly encouraging customers to make plans to transition to alternative platforms. Security updates for ProcessBook are scheduled to end in 2022, and support for the platform will end entirely in December of 2024.
So, if you've been on the fence about replacing ProcessBook at your facility, now's the time to begin looking into some alternatives.
How to Evaluate ProcessBook Alternatives
The industrial analytics marketplace has become quite crowded. There are dozens, maybe hundreds of companies out there making analytics products for everything from broad industrial applications to niche manufacturing processes. So, where do you start in your search for an alternative to ProcessBook? What factors should you consider to determine which of these solutions is the best fit for you? At a high level, you should be thinking about the following:
1. Ease of Integration
Chances are, if you're using ProcessBook, you're also using PI Server as a data historian. If you're looking to replace ProcessBook, the most critical question you'll have to answer is, how well does the alternative integrate with PI server. The answer to this question will mean the difference between a quick, 10 minute connection to PI Server, or a costly and time-intensive investment in custom development and new OT infrastructure.
Migration is also a key consideration. Your organization has invested much time and money into building the ProcessBook displays that you depend on to run your operations efficiently. Some ProcessBook alternatives provide tools to simply migrate your existing ProcessBook displays to your new platform. Others… don't.
2. Diagnostic Analytics Capabilities
Diagnostic, or "exploratory" analytics tools are used for root cause investigation and troubleshooting of downtime events or product quality issues.
Trends and trending capabilities are at the core of diagnostic analytics. Effective root cause analysis depends on rapid ad-hoc analysis and the ability to quickly overlay historical data from various process areas to determine correlation and causation.
Trending is likely to be one of the top two capabilities ProcessBook users are looking to address with a replacement system.
In addition to trends, diagnostic analytics are often supported by other visualization tools, such as histograms, X/Y charts, and Pareto charts. When presented with difficult process questions, the more ways you can slice and dice your data the easier it will be to arrive at the correct answer.
3. Operations Management Capabilities
"Operations Management" is broadly defined here as the capabilities that allow for:
Production tracking
Process monitoring
OEE tracking
Quality management
Process Alarms & Notifications
Reporting
Manual Data Entry
That's a lot of functionality, and most of it comes from dashboarding and process graphics-building tools that leverage process data for real-time monitoring. Basic analytics solutions typically only allow for monitoring at the site level, but more sophisticated offerings allow enterprise-wide tracking of production KPIs across multiple sites.
ProcessBook users have probably gotten the most use mileage out of the platform's dynamic, interactive graphics, and it's not uncommon for displays built with ProcessBook to see a decade or more of continued use.
When looking to replace ProcessBook's operations management capabilities you have a few options. You could look for point solutions designed specifically for that capability, like SSRS for reporting. You could find a highly customizable product that has coding capabilities like ProcessBook did. Or you could find a broad a solution that has the building blocks necessary to solve multiple business needs.
4. Advanced Analytics Capabilities
Advanced analytics is another loaded term that we'll define here for the purpose of this post. Often used in relation to leading-edge manufacturing concepts, like machine learning and industrial AI, advanced analytics in ProcessBook replacement tools will typically take two forms: predictive analytics and prescriptive analytics.
Predictive analytics tools promise to prevent downtime and improve OEE by building models from recorded data to anticipate and alert users to potential productivity loss.
Prescriptive analytics take the next logical step and tell you which actions need to be taken to address predicted production issues.
Together, and in conjunction with process automation tools, predictive and prescriptive analytics form a sort of elementary Artificial Intelligence used to maximize plant performance.
5. Cost/Pricing
Although it'd certainly be nice if it weren't the case, cost will likely be a consideration as you consider ProcessBook alternatives. Pricing for these solutions is usually determined by features and the scope of implementation, and most providers don't publicly list their pricing so providing even ballpark figures will be difficult. However, there's one key factor you should be aware of when evaluating pricing.
The pricing model
Pricing models vary between process manufacturing analytics providers, to include everything from flat rate pricing, usage-based pricing, tiered pricing, and user-based pricing.
These days, many manufacturing analytics solutions use "per-user" pricing, with the licensing cost going up according to the number of individuals using the tools at a facility.
The upside with per-user pricing is that for small facilities, or for organizations with few people monitoring and analyzing process data, it can make for a relatively-cost effective solution. The flipside, obviously, is that for data-driven companies who believe in giving every operator, engineer, and SME the ability to contribute to improving plant performance, per-user pricing can get very expensive very fast.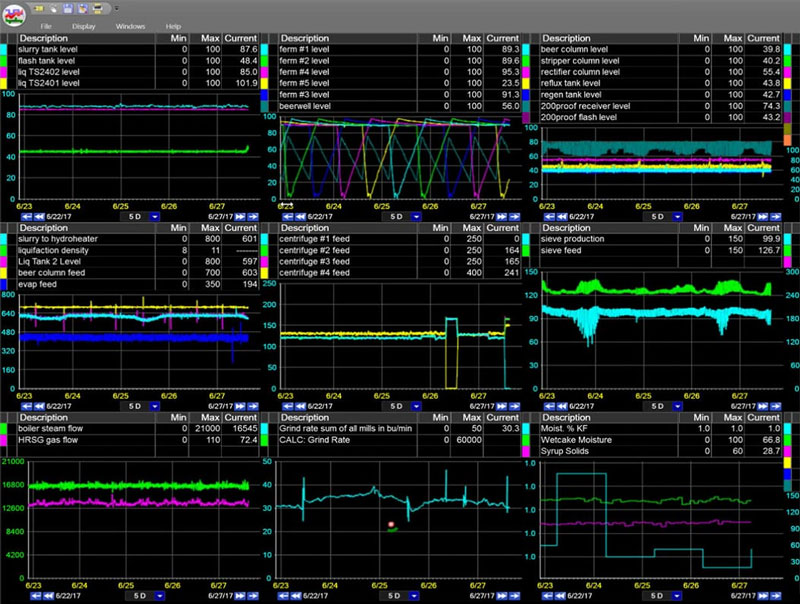 Seamlessly integrate with PI Server for real-time process monitoring and rapid root cause analysis.
The Best ProcessBook Alternatives
dataPARC's PARCview

A real-time data analysis and visualization toolkit developed by the end user, for the end user, dataPARC's PARCview application has long co-existed with OSIsoft's PI Server in process facilities around the world. In fact, over 50% of all dataPARC installations are built on top of PI historians.
If you value ProcessBook primarily for its trending and interactive process graphics, dataPARC is a superb alternative, featuring diagnostic analytics and operations management capabilities that are significant upgrades from what you've been accustomed to with ProcessBook.
Ease of Integration
dataPARC integration with PI Server is extremely simple, with native integration allowing users to connect and begin visualizing PI historian data in a matter of minutes. By utilizing the latest PI SDK technology and other performance focused features, most ProcessBook users will find improved performance.
Likewise, dataPARC's ProcessBook conversion utility allows users to bulk import their existing ProcessBook displays without losing any functionality.
Diagnostic Analytics Capabilities
Widely considered the best time-series trending application available for analyzing process data, dataPARC's greatest strength is in its ability to connect and analyze data from various sources within a facility.
In addition to its powerful real-time trending toolkit, dataPARC is loaded with features that support root-cause analysis and freeform process data exploration, including:
Histograms
X-Y plots
Pareto charts
5-why analysis tool
Excel plugin
dataPARC is also likely the fastest ProcessBook alternative you'll find on this list. dataPARC's Performance Data Engine (PDE) provides access to both aggregated and lossless datasets , allowing the best of both worlds – super fast access to long-term datasets and extremely high resolution short-term data.
Operations Management Capabilities
dataPARC offers a complete set of tools for operations management. dataPARC's display design tool offers the ability to create custom KPI dashboards and real-time process displays using pre-built pumps, tanks, and other industry standard objects. dataPARC even allows you import existing graphics or entire ProcessBook displays.
All the standard reporting features are included here, along with smart notifications that can be configured to trigger email or text alerts for downtime events or other process excursions.
dataPARC's Centerline tool is one of the platform's most powerful features, providing operators with an intuitive multivariate control chart with early fault detection and process deviation warnings, so operators can eliminate quality or equipment issues before they occur.
Additional operations management capabilities offered by dataPARC include a robust module for data entry (manual or electronic), notifications, advanced calculation engine and a task scheduling engine.
Advanced Analytics Capabilities
dataPARC doesn't make claims to artificial intelligence or machine learning, but the platform provides a solid interface for advanced analytics, offering a data modeling module that uses PLS & PCA to power predictive analytics for maintenance, operations & quality applications.
Cost/Pricing
dataPARC provides an unlimited user license for PARCview, which makes it a good fit for organizations wishing to get production data in front of decision-makers at every level of the plant. Compare dataPARC vs PI.
PI Vision
OSIsoft's ProcessBook successor, PI Vision is branded as being the "fastest, easiest way to visualize PI Server data." PI Vision is a web-based application that runs in the browser, which can be a significant change for ProcessBook users used to a locally-installed desktop app.
Ease of Integration
PI Vision likely offers the most straightforward integration with PI Server, as it's part of OSIsoft's PI System.
Migration of existing ProcessBook screens to PI Vision is supported by OSIsoft's PI ProcessBook to Pi Vision Migration utility, however many users have reported difficulty retaining the full functionality of custom displays and graphics after moving them into Pi Vision.
Diagnostic Analytics Capabilities
Many users report that PI Vision's trending tools provide less firepower than ProcessBook and competitors for root cause analysis and ad-hoc diagnostics, but it is perfectly capable of performing the basic trending functions of plotting time-series and other data against time on a graph.
OSIsoft also offers their PI DataLink Excel plugin, which is often used for more advanced diagnostic analytics efforts.
Operations Management Capabilities
Process Displays are the heart and soul of the PI System and if you're moving from ProcessBook you'll likely feel at home working in PI Vision.
Although it's not a 100% feature-for-feature replacement of ProcessBook (the SQC module, for instance isn't available in Vision), some of the ProcessBook features lacking in early versions of PI Vision are being added via periodic updates. In addition, there are some new capabilities in PI Vision that don't exist in ProcessBook.
The PI Vision displays use HTML5 and are integrated into PI's Asset Framework (AF), which results in pretty intuitive display building. Basic reporting is available as well, but like much of the PI system, the data must be extracted to Excel via PI DataLink.
Advanced Analytics Capabilities
PI Vision doesn't include any built-in data modeling tools or other advanced analytics components. PI Server data can be brought into 3rd party analytics apps via PI Integrator for advanced analysis.
Cost/Pricing
PI Vision uses a per-user pricing model, which is great for small organizations with only a few people accessing the platform. For larger manufacturers, or enterprise implementations with teams of operators, process engineers, and data scientists accessing the product, PI Vision can become quite expensive.
Proficy CSense

GE acquired CSense back in 2011 to provide better data visualization and analytics tools for use with their own Proficy Historian. CSense is billed as industrial analytics software that improves asset and process performance. Trending and diagnostic analytics is the focus here, with less emphasis on robust process displays.
Ease of Integration
CSense is optimized for integration with Proficy, GE's own time-series data historian. A OSISoft PI OLEDB provider is required to integrate with OSIsoft's PI Server. This interface may affect performance for users familiar with native PI integration.
Diagnostic Analytics Capabilities
CSense's trending and diagnostic capabilities likely exceed what you've experienced with ProcessBook.
Dedicated modules for troubleshooting (CSense Troubleshooter) and process optimization (CSense Architect) provide modern trends, charts, and other visualization tools to analyze continuous, discrete, or batch process performance.
Operations Management Capabilities
GE takes a modular approach to their data visualization products. Much of the operations management functionality provided in a single product like ProcessBook is spread over many separate products within the Proficy suite.
There's a fair amount of overlap in these products, but somewhere among GE's iFIX, CIMPLICITY, Proficy Operations Hub, Proficy Plant Applications, and Proficy Workflow products you'll find operations management capabilities that greatly exceed those of ProcessBook.
Advanced Analytics Capabilities
CSense marketing materials are filled with mentions of industrial advanced analytics, digital twins, machine learning, and predictive analytics.
Like PARCview's approach, this advanced functionality is enabled by the insights mined from the powerful data visualization tools of the core platform, though models can be developed in CSense to help predict product quality and asset failure.
Cost/Pricing
CSense licensing is offered in three editions – Runtime, Developer, and Troubleshooter, all which come with different component combinations and data connectors.
Canary Axiom

Like CSense and PI Vision, Canary's Axiom was designed as the visualization component of a larger system. Axiom was built to support analysis of data stored in Canary Historian.
Ease of Integration
Canary's Data Collectors can connect to process data sources via OPC DA and OPC UA, but they don't have a dedicated module to connect to PI Server like some of the other options on this list.
Diagnostic Analytics Capabilities
Axiom is browser-based trending application that, while not as powerful as some other ProcessBook replacements, is easy to use and capably performs basic diagnostic analysis. It lacks the more powerful features of products like dataPARC and CSense, but Canary does provide an Excel Add-in for performing more advanced analysis.
If you were perfectly fine with the trending and diagnostic capabilities of ProcessBook, you'll likely be satisfied with what Axiom provides.
Operations Management Capabilities
Axiom offers dashboarding and reporting capabilities alongside their trending tools, but ProcessBook users may be disappointed by the lack of emphasis on display building provided here. Simply put, if you're looking to replace your dynamic, interactive ProcessBook displays, you'll want to look elsewhere.
Canary also lacks support for migrating existing ProcessBook displays, which is a feature that both dataPARC and PI Vision have.
Advanced Analytics Capabilities
Canary avoids making flimsy claims to current buzzwords like Industrial AI or Machine Learning. Axiom's focus is on nuts-and-bolts trending & analysis of time-series data, though their Excel Add-in does certainly open the door to more advanced analytics applications.
Cost/Pricing
Canary helpfully posts their pricing on their website, with Axiom fetching a per-client fee in the form of both a one-time and monthly charge. This pricing assumes you'll be using the Canary Historian, so the info on the website won't be much help if you're looking to connect Axiom to PI Server data only.
TrendMiner

Offering "self-service industrial analytics", TrendMiner provides a complete suite of web-based time-series data analysis tools.
Ease of Integration
Like dataPARC, TrendMiner offers native integration with PI Server. You can expect connecting to your PI historian to be very easy, although TrendMiner doesn't appear to support the transfer of existing ProcessBook displays.
Diagnostic Analytics Capabilities
With a name like TrendMiner, you'd assume that trending and diagnostic analysis is key for the Software AG brand. And you'd be correct – tag browsing, trend overlays, and data filtering are all favorite features of TrendMiner customers.
Root Cause Analysis is a core use case for TrendMiner, but some users have mentioned difficulty learning to use the system to identify process issues. Reports of slow performance also make this a riskier choice when considering ProcessBook alternatives.
Operations Management Capabilities
Monitoring is at the core of TrendMiner's operations management capabilities. The platform provides a number of tools that support smart alarming & notifications of process excursions, but visualization of processes seems limited to trends. ProcessBook users who depend on interactive process displays to manage and monitor plant performance will need to look to other options on this list to replace that functionality.
Advanced Analytics Capabilities
TrendMiner's monitoring features extend the platform into "predictive" analytics territory. Like dataPARC and some of the other ProcessBook alternatives on this list, predictive performance is enabled via models based on historical data.
Cost/Pricing
TrendMiner pricing is dependent on your particular use case and they don't list pricing on their website, however you can expect them to be on the higher end of the ProcessBook alternatives listed here.
Seeq

Founded in 2012, Seeq offers Advanced Analytics for Process Manufacturing Data. Analysis is the focus with Seeq, and their products are heavy on diagnostic and predictive analytics, without as much support for operations management as some of the other ProcessBook alternatives on this list.
Ease of Integration
Like dataPARC, Seeq is optimized to connect to various different data sources within a plant, including OSIsoft's PI Server. You should expect a pretty seamless integration with your PI historian data.
Seeq does not support importing existing ProcessBook displays.
Diagnostic Analytics Capabilities
Seeq's browser-based Workbench application powers the platform's diagnostic analytics, offering a powerful set of trending and visualization tools.
Advanced trending, bar charts, tables, scatterplots, and treemaps can all be employed to perform rapid root-cause analysis, and represent a significant upgrade in diagnostic capabilities from ProcessBook.
Operations Management Capabilities
Seeq offers the ability to configure alarms for process monitoring, and their Seeq Organizer application allows users to build scorecards and dashboards for KPI monitoring, but they don't provide anything approaching the display-building capabilities that ProcessBook provides.
Engineers looking for a ProcessBook replacement, and an option for migrating or even replicating their existing displays, will likely want to look at other alternatives.
Advanced Analytics Capabilities
Advanced Analytics is an area where Seeq shines. Claiming predictive analytics, machine learning, pattern recognition, and scalable calculation capabilities, it's clear that Seeq intends to be your solution for sophisticated process data analysis. Most of Seeq's advanced analytics capabilities come from their Seeq Data Lab application, which provides access to Python libraries for custom data processing.
Cost/Pricing
Seeq's pricing isn't listed on their website, but they reportedly use a per-user pricing model which starts at $1,000/year per user.
Ignition

Inductive Automation's Ignition application is a popular SCADA platform with a broad set of tools for building industrial analytics solutions.
Ease of Integration
Ignition offers the ability connect to virtually any data in your plant. While it lacks the easy native integration capabilities of some of the other ProcessBook alternatives on this list, Ignition supports various methods of connecting to your PI historian, including JDBC and OPC.
Diagnostic Analytics Capabilities
While Ignition shines as an HMI designer or MES, it ranks quite a bit lower than others on this list in its diagnostic analytics capabilities. But it wasn't designed for root cause investigations and ad-hoc data analysis. Trending in Ignition is basic and integrated into displays, similar to what users may be familiar with in ProcessBook.
Operations Management Capabilities
Ignition's Designer, on the other hand, is an extremely capable application for building process graphics and HMIs for real-time process monitoring and KPI tracking.
While perhaps lacking the interactivity that ProcessBook users are familiar with, Ignition modules are available to help manage SPC, OEE, material tracking, batch processing, and more.
Advanced Analytics Capabilities
Again, predictive analytics, prescriptive analytics, machine learning, industrial AI… these aren't Ignition's focus and don't factor in to their application feature sets.
Cost/Pricing
Inductive Automation offers unlimited users for a single server license of Ignition, with pricing based per-feature, starting at around $12,500 and going up from there. Ignitions price very much reflects its standing as one of the industry's most popular SCADA platforms.
Looking for a ProcessBook Alternative?
Well, you have a lot to consider. Presented with the prospect of discontinued support for ProcessBook, your challenge is twofold: first, figure out how to replace the displays, trends, and other features that made ProcessBook valuable to you, and second, evaluate potential replacement candidates for capabilities like predictive and prescriptive analytics that didn't exist when you got started with ProcessBook.
All the ProcessBook replacement options we listed above feature different toolsets and it's up to you to identify your needs and determine which solution is the right one for your organization. Hopefully this post got you set off in the right direction on your search.
Looking for PI Vision Alternatives?