KPIs are a powerful tool for manufacturers to drive continuous improvement and promote process efficiency. We'll explain what KPIs are, how they are used in manufacturing and tie into continuous improvement. Feel confident in selecting and developing KPIs with a step-by-step outline.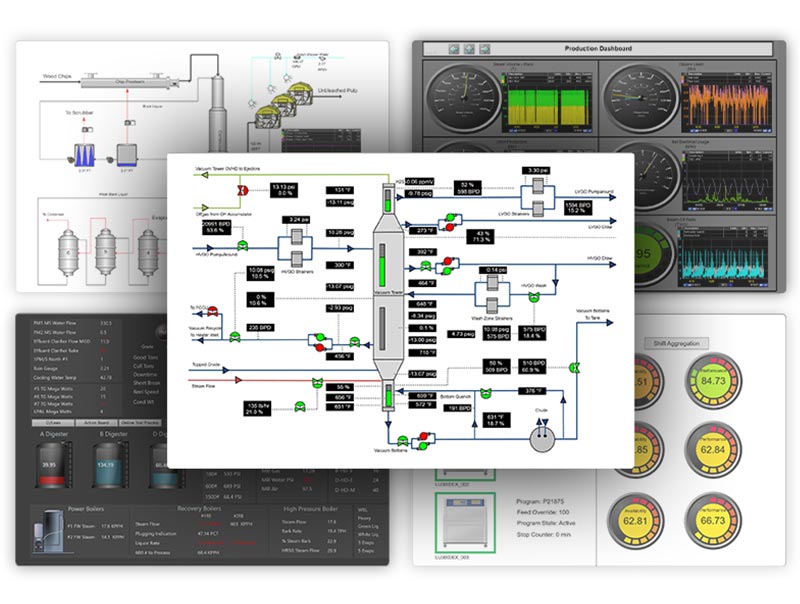 Build Real-Time Dashboards & Displays for Effective KPI Monitoring with dataPARC
What are KPIs?
KPI stands for Key Performance Indicators. These are metrics that a company deems necessary to monitor performance, analyze and improve the process. These variables are measured by each department and reviewed on a regular basis.
It is not enough to measure KPIs, they also need a target. More specifically, the target should be SMART – Specific, Measurable, Achievable, Realistic and Time-bound.

KPIs and their targets are often tracked with a simple chart. The target line provides a clear and visual marker of performance. KPIs with SMART targets point to areas that are under performing and could use a focused project to get back on track.
How are KPIs used in manufacturing?
KPIs are used across industries, from banking and retail to manufacturing and travel. In manufacturing, KPIs are used to drive process improvements and reduce costs. Manufacturing KPIs often start from the top with the company goals and are broken down to department level KPIs.
Even though departments are working toward the same overall goal, they could have varying ways to achieve it, thus having different KPIs.
Since KPIs roll up to an organizational level, they can be used to keep the teams and departments on track, moving towards the companies' goals. By breaking down the company goal into departments, it turns a single lofty target into actionable and manageable ones.
Manufacturers regularly use KPI trends or dashboards for everyone can see and understand their current performance.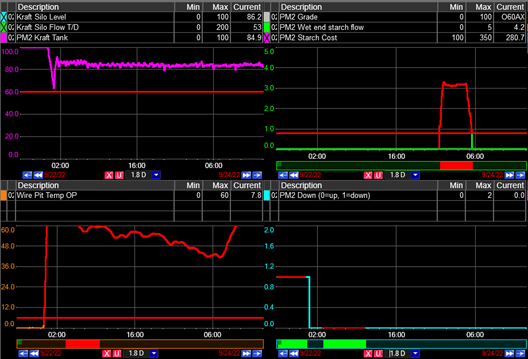 These KPI dashboards are reviewed on a daily or weekly basis. When daily operations are on track, then monthly and yearly goals will be met. By reviewing KPIs on a regular basis, operations can quickly identify drops in performance as they happen, rather than after the fact.
Manufacturing KPIs and Continuous Improvement
KPIs go hand in hand with continuous improvement. To improve, we need to measure the current performance and have a target for the future. Continuous improvement initiatives are focused around KPIs, even if that is not how it is proposed.
KPIs naturally drive continuous improvement. When people see a value drop, it is intuitive to want to get it back up. Clear measures with targets reviewed on a regular basis help get the team on the same page. From upper management to operators, everyone knows what the goal is and the current performance.
KPIs promote data driven decisions. If a KPI is struggling, it will point operations to make an adjustment sooner because the data is showing something is off.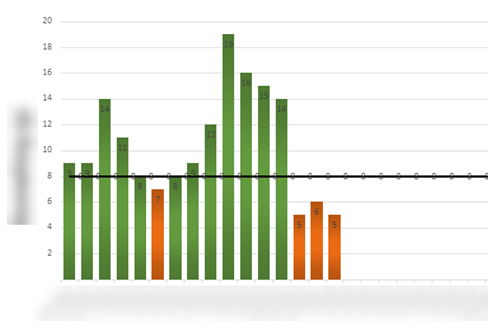 KPIs provide that evidence a change is needed, rather than going off someone "having a feeling" that something is wrong. When a KPI chart drops, engineers and operators can investigate the issue right away and be confident in their course of action. The evidence is there.
Finally, KPIs hold the team accountable for the goals that were made at the beginning of the year. It gives them something to strive toward. If a target was not achieved, the owner of the KPI will have to answer to it and discuss the reasons. This could lead to more or better tracking of (downtime) reasons, or causes. Meaning the team has even more data. Which in turn will give the team better information to improve the process and hit the KPI next time.
Selecting and Developing Manufacturing KPIs
With so many variables, departments, and industries out there, it can seem overwhelming to determine which KPIs should be tracked and how to get started.
It is important to start small and not try to rack tens or hundreds of KPIs right off bat.
The type of manufacturing will dictate which KPIs need to be measured, although there are some common KPIs that span industries. Here are a few steps on how to get started
1. Create a list of possible KPIs to track.
Use categories of Value to Customer, Value to Company and Value to Employee to help develop the list.
Example of Value to Customer – On time delivery, throughput, quality.
Examples of Value to Company – Waste (Material, Time, or Money), OEE (Overall Equipment Efficiency), Downtime, First Pass Yield.
Examples of Value to Employee – Safe work environment, automated systems, ergonomic conditions.
When creating these lists also consider leading vs. lagging indicators of performance. A lagging measure reflects past performance. A leading measure will reflect the status on process and practices. Leading indicators are anticipative in nature and can be used to drive future performance.
2. Narrow it down
When you're first starting out, select the top 1 or 2 from each category and try to have a combination of both leading and lagging indicators.
To help identify top KPIs, make sure they are clear and easy for everyone to understand. If a KPI is too complex to measure or wrap your head around, it is likely not to be tracked regularly and is not value added.
3. Determine how to measure each KPI
Next, determine how these variables can be measured. Variables that can be measured automatically, and often (per minute, per hour) are more likely to be updated and can lead to faster improvement.
If something is challenging to measure, it is probably not the right KPI to start with. For more information see Measuring Manufacturing KPIs; Data Collection, Examples and Formulas.
4. Choose Targets
Create a SMART goal and target for each manufacturing KPI. A SMART goal is one that is Specific, Measurable, Achievable, Realistic and Time-bound. Instead of "Reduce Downtime" a SMART goal would be "Reduce downtime on Machine 7 by 5% by January".
5. Establish reviewing and reporting
Determine how the KPIs will be reviewed. This can be done using dashboards connected to real-time data like PARCview, with spreadsheets and charts, or other reporting tools.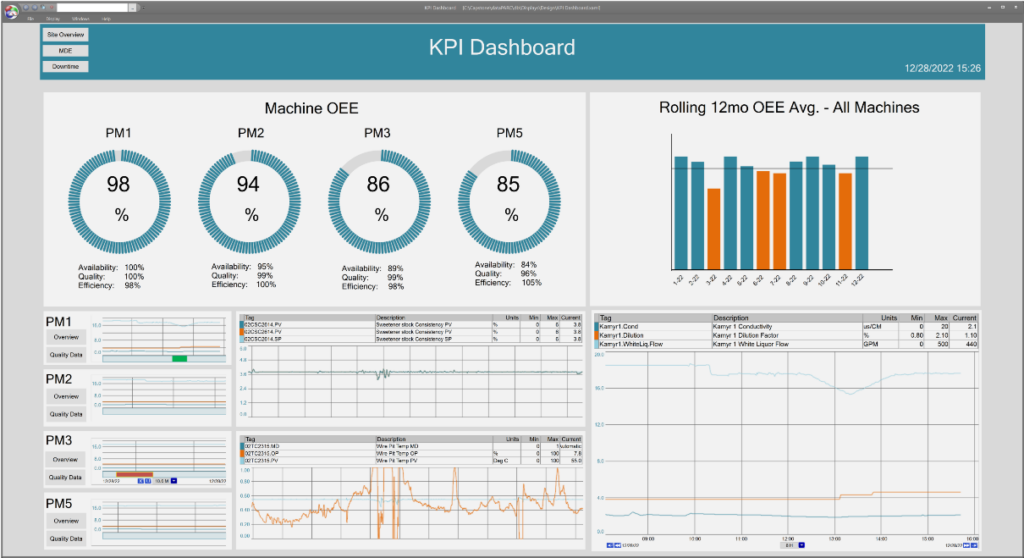 Don't feel that these KPIs are set, KPIs should be checked periodically to ensure they are still bringing value to the company. You can always add more KPIs as your site gets more comfortable reviewing and improving the process. Start small and focus on the KPIs that will have the greatest impact.