Manufacturers use a variety of tools and systems every day to manage their process from start to finish. It is critical that these systems can provide a "single pane of glass" and "single version of truth" along the way. Meaning, data can be viewed from any device, location or system and will be synchronized across all platforms. Manufacturing Operations Management Systems make this possible.
What is Manufacturing Operations Management?
Manufacturing Operations Management (MOM) is a form of LEAN manufacturing where a collection of systems is used to manage a process from start to finish. The key to MOMs is ensuring data is consistent across all systems being used from scheduling and production to shipment and delivery.
MOM includes software tools designed for the management of people, business processes, technology, and capital assets to meet customer demand while creating shareholder value. Tying in the LEAN manufacturing, the processes must be efficiently performed and resources productively managed. These are the prerequisites for successful operations management.
Key Applications of Manufacturing Operations Management
Supply chain & resource management
MOM systems include tools for planning, procuring, and receiving raw materials and components, especially as it relates to obtaining, storing, and moving necessary materials/components in a timely manner and of suitable quality to support efficient production, something that is certainly critical in these times of supply chain disruptions.
To deal with today's dynamic business environment ranging from challenges caused by pandemics, shutdowns, geo-political conflicts, and supply chain disruptions, organizations need to be able to be sustainable, operationally resilient, conform to ESG goals, deploy the latest cybersecurity tools, and connect its workforces from any location.
Process & production management
Once all the resources are gathered, MOM tools need to be established for implementing product designs to specifications, developing the formulations or recipes for manufacturing the desired products, as well as manufacturing of product or products that conform to specifications and comply with regulations.
Organizations must monitor and adjust their processes quickly and automatically, to efficiently evaluate the situation when an inevitable glitch occurs. This is a prime opportunity for digital transformation through MOM systems.
Distribution & customer satisfaction management
The final stage of MOM relates to the distribution to the customers, particularly as it relates to sequencing and in-house logistics, as well as supporting products through their end-of-life cycles.
Organizations must react in real-time to changing market conditions and customer expectations. They will have to innovate with new business processes that reach throughout the organization, into the design and supply chain.
Driving innovation & transformation
Successfully innovating at this level involves managing people, processes, systems, and information. When disruptive technologies are in the mix, the first challenge is often tied up in the interplay of people and technology.
Only when the people involved begin to understand what the new MOM technologies are capable of and have the tools to visualize the data and real-time manufacturing analytics software to convert this data into actionable information can they begin to take steps towards achieving the innovation.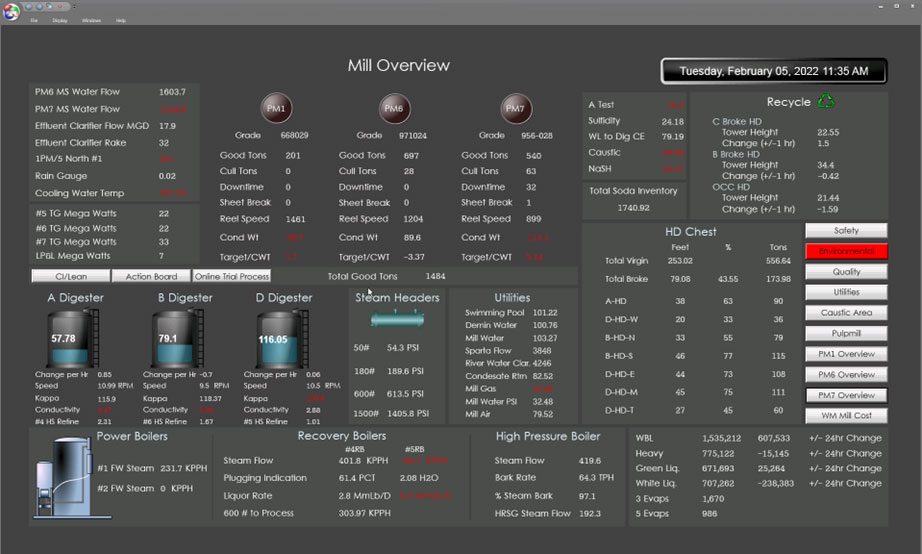 Manufacturing Operations Management Systems
Today's MOM systems can play a role in achieving the next levels of operations performance because they marshal many or all the needed services in one place and can provide a development and runtime environment for small or large applications.
Common MOM Tools
In addition to leveraging the latest AI, ML, AR/VR, APM, digital twin, edge, and Cloud technologies, MOM systems often consist of one or more of the following:
Manufacturing Execution Systems (MES)
Enterprise Asset Management (EAM)
Human-Machine Interface (HMI)
Laboratory Information Systems (LIMS)
Plant Asset Management (PAM)
Product Lifecycle Management (PLM)
Plant Asset Management (PAM)
Real-time Process Optimization (RPO)
Warehouse Management Systems (WMS)
MOM systems integrate with business systems, engineering systems, and maintenance systems both within and across multiple plants and enterprises.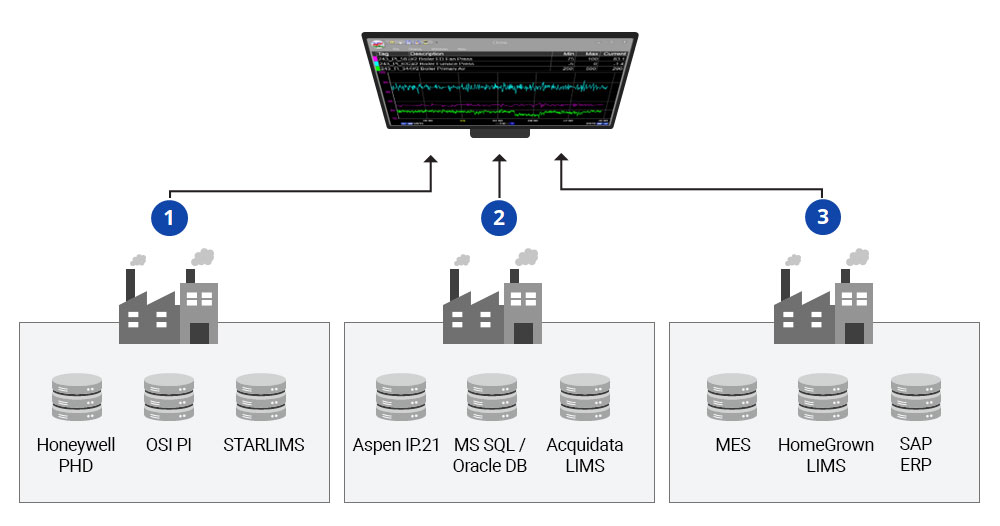 Supply Chain Management (SCM), Supplier Resource Management (SRM), Transportation Management (TMS) are commonly used to manage the supply chain.
Plant automation systems, such as Distributed Control Systems (DCS) and Programmable Logic Controllers/Programmable Automation Controllers (PLCs/PACs) are key technologies driving manufacturing production.
Data Visualization and Real-Time Analytics for MOM
Maybe the most important manufacturing operations management tools for managing production are the data visualization and real-time manufacturing analytics software platforms, like dataPARC, which provide integrated operations intelligence and time-series data historian software.
These MOM tools focus on data connectivity, real-time plant performance, and visualization + analytics to empower plant personnel and support their decision-making process.
Benefits of MOM Visualization & Analytics Tools
Eliminate Data Silos
Most real-time manufacturing operations management analytics tools offer the ability to connect to both manufacturing and operations data. Data from traditionally isolated data silos, such as lab quality data, or ERP inventory data, can be pulled in and presented side-by-side for analysis in a single display.
Establish a single source of truth
MOM analytics tools offering visualization plus integration capabilities enable manufacturers to create a "single version of truth" which everyone from management to the plant floor can use to understand the true operating conditions at a plant.
Often combining multiple sites and multiple data sources to form a single view, users leverage this data to gain perspectives and intelligence from both structured and unstructured operational and business data.
Produce common KPI dashboards
By measuring metrics and KPIs, such as production output, yields, material costs, quality, and downtime, users at multiple levels and roles can make better decisions to help improve production efficiencies and business performance.
Real-time manufacturing operations management dashboards from manufacturing analytics providers can pull in data from multiple physical sites or from multiple manufacturing process areas and display them in a common dashboard.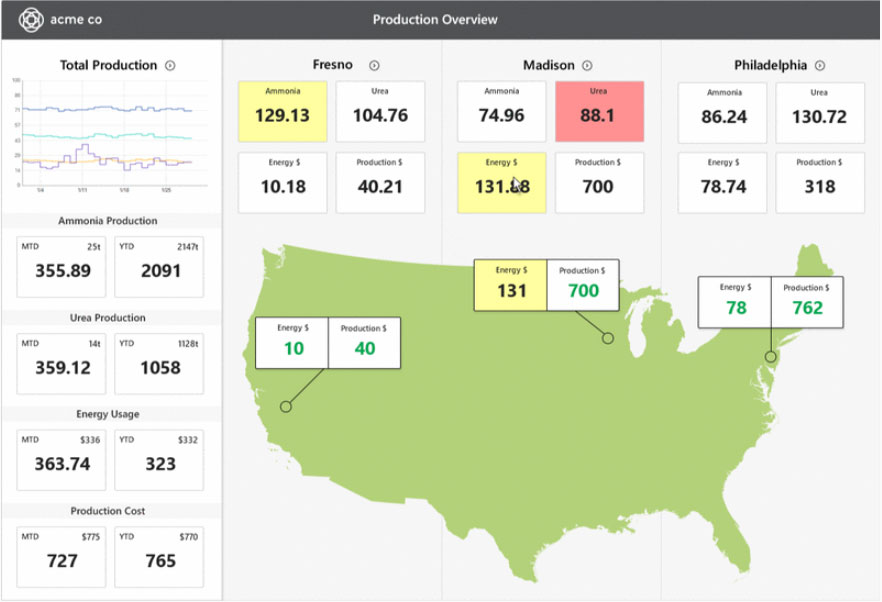 Facilitate data-driven decision-making
Without operations intelligence provided by manufacturing operations management systems, users are often unable to properly understand how their decisions affect the process. MOM analytics software can display data sourced in the business systems for direct access to cost, quality control, and inventory data to support better business decisions.
Integrating manufacturing data at your plant? Let our Digital Transformation Roadmap guide your way.
Final Thoughts
The next generation of MOM systems is here. The economics of steady-state operations have been replaced with a dynamic, volatile, disruptive economic environment in which adapting to changing supply and demand, along with issues such as pandemics, shutdowns and geo-political conflicts are the norm. Tighter production specifications, greater economic pressures, and the need to maintain supply chain visibility in real-time, be sustainable and operationally resilient, plus more stringent process safety measures, cybersecurity standards, ESG goals and environmental regulations further challenge this dynamic environment. Managing these challenges requires more agile, less hierarchical structures; highly collaborative processes; reliable instrumentation; high availability of automation assets; excellent data; efficient information and real-time decision-support systems; accurate and predictive models; and precise control. Uncertainty and risks must be well understood and well managed in all aspects of the decision-making process.
Perhaps most importantly, everyone must have a clear understanding of the business objectives and progress toward those objectives. Increasingly, effective manufacturing operations management requires real-time decisions based on a solid understanding of what is happening, and the possibilities over the entire operations cycle. Organizations pursuing Digital Transformation should consider focusing on MOM systems and not just transformative new technologies to drive operations performance to new levels. This means utilizing software tools, such as manufacturing data integration, visualization, and real-time manufacturing analytics software that gathers a user's manufacturing data in one single pane of glass view and establishes a single source of the truth.
This article was contributed by Craig Resnick. Craig is a primary analyst ARC Advisory Group. Craig's focus areas include production management, OEE, HMI software, automation platforms, and embedded systems.