If you're like us, you've likely been sent an email or told in meetings that part or much of your company staff will now work remotely. Testing for remote computer access and data volume traffic are ongoing as plans are being worked out for this new structure. For most companies, that means VPN or other remoting methods. Virtual meetings are replacing face-to-face ones and pseudo to full quarantines are on the rise. Phone conversations will go on but this won't fully suffice to cover staffing roles. And besides, you're talking to neighbors and wondering if you should take one more trip to the grocery store. In the midst of all the chaos, your company still needs you to not only do your job but to excel at it.
For those who work in the processing industries – upstream to downstream oil & gas, chemical facilities, paper & power plants, discrete manufacturing and similar – one may begin to start thinking, "How can the plant be run and supported from home?"
Staff still needs to access data, send intermediate findings, hold conversations about specific content with common access and draw accurate conclusions to meet company business goals. Surely field staff and control room operators will have to be present at the plant in some significant degree. But engineers and many other supporting staff may be able to work a partial schedule from home.
What challenges will they face?
Can the right set of tools support a realistic approach to overseeing manufacturing operations remotely?
Capstone technology's dataPARC has been used in a remote capacity for years to provide engineering process operations support. The installation of a single dataPARC server in the plant connect to multiple data sources with remote access is all that's needed for engineering and management staff to conduct daily data-related tasks such as data access, unit monitoring, root cause analysis, reporting, notifications and much more. PARCmobile allows plant employees to make decisions using their phones.
Top priorities on the list are safety and equipment reliability. Close behind are maintaining production levels and product quality. Many companies are already using dataPARC to rely on remote engineering support for their daily work to accomplish important company goals. Here are some of the overall challenges of remote manufacturing:
Reliable, secure and fast access to all plant data
Eliminating the headache and time-consumption of multiple log-ins to various data systems (process data, LIMS data, ERP data, etc.)
Limited visibility to data via remote mechanisms
Slow data response
No common toolset for cross-staff learning, collaboration and confidence in decision-making
Many companies have chosen dataPARC because it provides companies a single entry to all their data. This server is connected to multiple data systems, allowing all key stake-holders to monitor and support process operations effectively via a single login. Furthermore, the data access is secure and fast. In an environment with a common and easy-to-use toolset for many staff, built on a data speed engine, dataPARC provides the right operations support approach to address the remoting challenges faced by the processing industry now and in the future.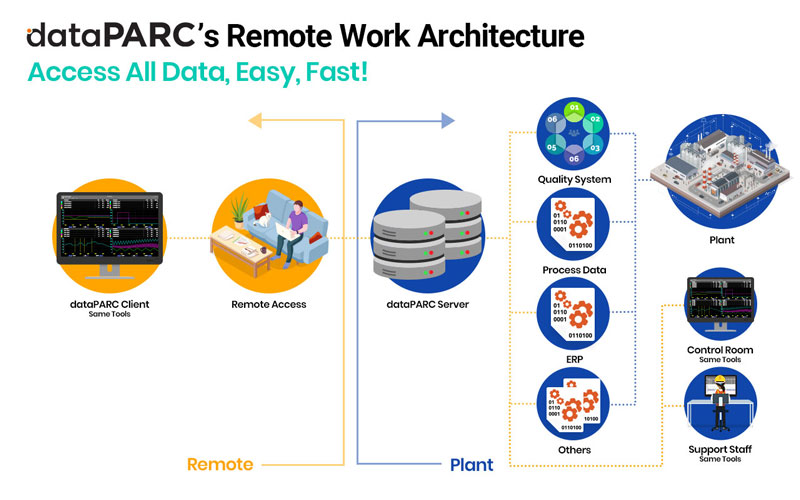 operations support approach to address the remoting challenges faced by the processing industry now and in the future.
With multiple data sources, local and remote access, fast data, easy-to-use interfaces, useful functions, wide staff application – dataPARC is your turn key tool during uncertain times.